case study
Gruene Historic District

the company
Since 1974, the Gruene Historic District has striven to make the town of Gruene Texas a premiere tourist destination while maintaining its turn-of-the-century Texas Hill Country charm. Through wise investment and thoughtful renovation, Pat Molak and Mary Jane Nalley have turned a ghost town into a thriving cultural hot spot of fun and history.
THE CHALLENGE
Mary Jane approached AMMO regarding the creation of an identity for a new monthly wine and craft beer tasting event. Her desire was to have the event stand out in a market saturated with live music and vineyard tastings. She wanted her new gatherings to evoke her trademark down-home couture – a unique blend of elegance, dusty boardwalks and Texas pride.
THE PROCESS
AMMO went to work assessing similar tastings and brainstorming on how this new series could be better than all the rest. With Mary Jane's vision of elegant, rustic, Texas pride at the forefront of our endeavors, we provided a lengthy list of options for the name of the festival.
Additionally, our full creative force was employed to create a unique identifying logo. Several versions were submitted to the client, and one ultimately took top honors.
These two initiatives were married in the winning composition: A rendition of the iconic Gonzales "Come and Take It" flag in which the cannon is represented by a horizontal wine bottle and the stalwart Texan slogan is changed to "Come and Taste It".
THE RESULTS
The solution was exactly what Mary Jane had ordered. The Come and Taste It gatherings are highly successful and well attended every month, with that success spilling over into merchandising opportunities. The logo and slogan make for highly desirable souvenir merchandise and the events themselves are very well attended.
Gruene has since turned to AMMO for similar solutions to a number of subsequent special events as well as recurring festivities.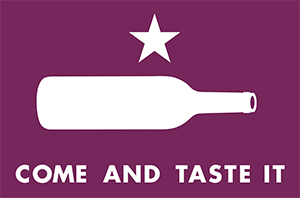 advertising
marketing
design
digital
A full-service agency that gets it.