the company
The New Braunfels Convention and Visitors Bureau has the enjoyable, yet sometimes daunting, task of promoting consumer and corporate tourism to the city of New Braunfels. The Bureau consists of several committees and hundreds of volunteers who work hard to make New Braunfels thrive.
THE CHALLENGE
The New Braunfels Convention and Visitors Bureau needed to develop an interactive, all-encompassing website to cover all aspects of living, working, playing, and visiting New Braunfels. It also needed to serve as an events hub and a directory of local businesses. It was a big job, but they knew AMMO has what it takes to tackle it.
THE PROCESS
Over the course of several months, AMMO worked closely with the CVB to roll out an enormous interactive website, with dozens of easily navigated informational pages. Separate categories direct visitors to the following categories: VISIT, MEET, DO BUSINESS, WORK and MOVE. The site also contains information about the Chamber, events, membership, and an exhaustive list of member businesses.
THE RESULTS
The New Braunfels Chamber of Commerce website, innewbraunfels.com, was awarded first place honors as the Best Chamber of Commerce website in the state of Texas. The Texas Chamber of Commerce Executives bestowed the honor upon New Braunfels representatives at an annual awards banquet in June of 2015!.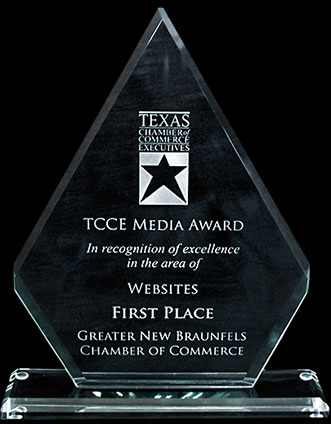 advertising
marketing
design
digital
A full-service agency that gets it.