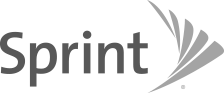 the company
Sprint Corporation is the third-largest telecommunications company in the United States, servicing 57.1 million customers as of 2015.
THE CHALLENGE
As such a large company dealing with a many-faceted and rapidly changing market, it is imperative to Sprint to be able to move quickly in anticipating and reacting to the needs of their retail and business-to-business customers. As such, they utilize a number of smaller marketing agencies to expedite advertising demands which cannot be served in a timely manner by their agency of record.
These "ad hoc" projects are held to the same strict Sprint Brand standards as work originating from the main Madison Avenue agency, but are expedited much more swiftly in order to meet the demands of the market.
THE PROCESS
Sprint was one of AMMO's first clients, and we have been serving them since 2001. Over the years, they have entrusted us with the full spectrum of advertising and marketing collateral – from print ads, billboards and trade show graphics to web banners, eBlasts, and radio commercials.
THE RESULTS
Sprint has always been pleased with AMMO's speed, accuracy, and can-do responsiveness while maintaining razor-sharp compliance to the ever-important Brand standards.
advertising
marketing
design
digital
A full-service agency that gets it.