6 Red Flags to Watch For When Picking a Web Design Agency or Freelancer
We've been designing and building websites since the World Wide Web was a pre-teen. Over the last 20 years, we've heard it all – the good, the bad, the ugly, and the downright unethical.
These days, it seems like everyone is a website expert. Yes, your friend's third cousin twice removed's roommate can probably build you a website for $500. Should you let them? Probably not.
A simple Google search will present dozens of "local" website agencies and freelancers, all claiming that they'll build you the best website ever. So, how do you know who to trust? A good website is an investment, so it's essential to choose the right person or company to ensure the quality of your investment in the long run.
To help you avoid a situation that will cost you your time, money, and sanity, we've created a list of our top red flags to look out for when picking someone to build or redesign your website.
6. They offer packages and pricing.
Your business is unique. Your website needs will be, too. Offering packages and pricing indicates that you'll be getting a cookie-cutter website from a template.
A good website agency or freelancer will offer a custom proposal. Ideally, they should have an established process for getting to know your goals, your business, and your competitors before giving you a price quote. 
5. You don't get to meet the team.
There are two reasons that meeting the team, either in person or over a video call, is important.
One, if you're working with an agency, you should be paying for that agency to build your website – not for them to outsource it for a fraction of the quoted price and pocket a chunk of change.
Two, the website team is going to be designing and developing your website. To avoid playing telephone about your business's website needs, revisions, etc., it's best to be able to pick up the phone and talk to an expert, not just a salesperson with zero website experience.
4. The price seems too good to be true.
You know the saying. If it sounds too good to be true, it probably is. Also see: Good work ain't cheap, and cheap work ain't good.
While you don't need to shell out a fortune for a basic, custom website, you should expect to pay at least $5,000. Any cheaper, and you're likely getting an unprofessional website, an outsourced website, or a template used by hundreds of other websites. For a more extensive website or a website with custom integrations or e-commerce functionality, expect to pay well more if you want it done right.
3. Starting a project without a contract
Don't get yourself into this mess. It's not uncommon for a web company to disappear on you, change the price, give you the runaround, or fail to deliver the website you "agreed" upon. Make sure there's a contract for both parties to sign, and make sure you read it. Then reread it. THEN sign it. Also, note that a good agency won't start work without a deposit for their sake AND yours.
2. Fast, guaranteed results
If your website agency offers SEO services (and they should), a great way to vet them is by asking how long it will take to start seeing results. Any SEO worth their salt knows that, in most cases, the answer is "it depends," and results certainly do not happen overnight. If they promise significant results in fewer than six weeks, tread carefully. Good SEO is slow and ongoing. Fast SEO is a sign of black hat SEO, something a legitimate, reputable company would never offer. Additionally, a good agency knows that a great website isn't magic. If your marketing strategy is lacking as a whole, no sane person will make guarantees that a new website alone will bring you success. 
1. Failure to clarify website and domain ownership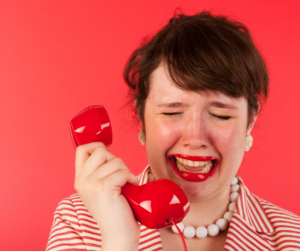 Many business owners may not know to ask what is, debatably, the most crucial question: Do I own my website and domain? If the answer is "no" or unclear, RUN.
Unfortunately, this is a scenario we see far too often. A client comes to us with an existing website that they want us to redesign or manage. "Sure, no problem!" we say. "Can you send us the login?" Cue the most common responses:
"They won't give me the login."

"The company never gave me the login, and now they won't answer my calls/texts/emails."

"They gave me a login, but it isn't a login with admin permissions."
Don't let your site or domain be held hostage by an unethical company. We've seen cases where a site has been "turned off" because the client told their existing web guy that they are switching to another web company. Some companies have even been known to redirect the domain to rather, well, unsavory websites. But when you don't own your site or buy your own domain, what can you do? Sadly, in most cases, not much. You'll be left to pay for a brand new site, and who wants to pay for something twice?
So, where does one start to look for a reliable website company?
Well, you could contact us to schedule a time to talk about your business. Another great place to start is your local Chamber of Commerce website. Lastly, you could try a quick Google search for local agencies and check out their reviews.
One last piece of advice – always trust your gut.
More AMMObservations